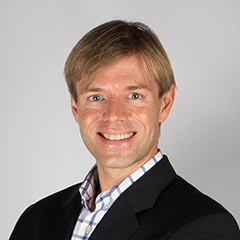 John C. Martin provides counsel in estate planning, trust, probate, business succession, charitable gifting, and estate and trust litigation matters. John resides in Redwood City, California with his wife and two children.
Education and Honors
John holds a bachelor of arts degree from UCLA, where he graduated magna cum laude in 2005. In 2008, he earned his juris doctor from Boston College Law School. He also holds a French diplôme at L'Institut d'Etudes Politiques in Paris, France (equivalent to a French undergraduate degree).
Representative Cases
John has assisted clients with estates ranging from $150,000 to over $120 Million, both on the planning side and during post-death administration. Counsel has included filing estate and gift tax returns to claim discounts in valuation, formation of family business entities, establishment of charitable trusts and foundations, intra-family loans, and assisting estate trustees and executors through IRS tax audit. He has advised families with disabled children on the establishment of special needs trusts, both through court procedure and through inter-vivos gifting to third party trusts. John has also advised clients on general estate planning and tax issues, including California property tax matters and appeals,  guardianship for minor children,  conservatorships for the disabled, federal capital gains tax, modification of irrevocable trusts, and retroactive trust funding by court petition to avoid probate at death.
Litigated matters have included contested conservatorships, elder abuse matters, petitions for entitlement to estate distribution, and petitions for breach of trust. John has assisted many families in resolving their disputes through mediation. As necessary, John litigates certain disputes at trial.
Memberships and Interests
John's interests include music, sports, and foreign travel and culture. He speaks French fluently, and speaks a bit of Portuguese, Spanish and Italian.
John currently serves as scholarship chair at the Kiwanis Club of Menlo Park, where he helps with development and selecting students for scholarship assistance. In 2010, John co-founded the alumni chorus ("Ragazzi Continuo") of the Ragazzi Chorus, for which John sings Baritone. Continuo performs two concert seasons per year, and was recently featured on the front page of the Datebook in the San Francisco Chronicle. John has served as President of the Menlo Park Kiwanis Foundation, and previously served on the board of directors for the Menlo Park Chamber of Commerce and the Ragazzi Chorus. He currently serves as an elder at Peninsula Covenant Church in Redwood City.
Awards and Publications
Certified as a Specialist in Estate Planning, Trust, and Probate Law by the California State Bar Board of Legal Specialization (2014)
State Bar of California Wiley W. Manuel Award for pro bono legal work (2010)
Certificate of Special Congressional Recognition awarded by Congresswoman Anna G. Eshoo (2010)
Boston College Peter A. Donovan Award for excellence in oral advocacy (shared, 2008)
"Best Advocate" at the European Law Moot Court Competition, second largest moot court competition in the world (2008).
Executive editor of the Boston College International and Comparative Law Review (2007-2008)
Law review note: John C. Martin, Bringing Dead Capital to Life: 31 B.C. Int'l & Comp. L. Rev. 121 (2008), available at http://lawdigitalcommons.bc.edu/iclr/vol31/iss1/6
Private letter ruling (PLR 201551008, 2015), available at https://www.irs.gov/pub/irs-wd/201551008.pdf
Speaking Engagements
2017, KALW / NPR Radio Interview, "Prevention of financial abuse of the elderly," Your Legal Rights with Chuck Finney, Esq.
2017, KALW / NPR Radio Interview, "When Someone you Love Won't Create an Advance Directive," Your Legal Rights with Chuck Finney, Esq., Co-Presenters Judge Eugene Hyman (Ret.) and Peter Stern, Esq.
2017, ABC7 Television Interview, "Inheritance clause in Proposition 13 explained," 7 On Your Side with Michael Finney, Esq..
2017, Strafford Webinar, "Structuring QDOTs for Non-Citizen and Nonresident Spouses: Deferring Tax Through Qualified Domestic Trusts," With Co-Presenters Jonathan A. Mintz, Esq. and Nancy O. Kuhn, Esq.; recording available at www.straffordpub.com.
2017, KALW / NPR Radio Interview, "Preserving a Proposition 13 Tax Basis," Your Legal Rights with Chuck Finney, Esq.
2013, NIPA Annual Forum & Expo, "Estate Planning for Retirement Benefits"
2010, Community Education of San Mateo County, Estate Planning Instructional Course
2009, Community Education of San Mateo County, Estate Planning Instructional Course
2009, Community Education of San Mateo County, Estate Planning Instructional Course